2018 Events
Events on this page:
---
Runecaster
SOLD OUT!
Date
Saturday, October 20, 2018
10:00 am to 5:30 pm
Description
An exciting workshop showing the novice the gift of this magical alphabet. We will be using only the Futhark set, which is 25 staves (24 symbol staves and one blank stave). One of the most enchanting things about runes, is how easily one can learn to read them for yourself as well as others. This workshop is based on my book of runes written many years ago. Each participant will receive a copy of my book and some great insight. You will need to invest in a set of Futhark Runes. You may find that wood or stone works a tad easier. Clay runes do tend to chip. Wise to also bring a cloth to read upon.
Location
QEW & Erin Mills Parkway
Mississauga, ON
(Address will be given upon registration.)
Registration
Cost: $120
Your payment is your registration. This PayPal button will register you only for the Runecaster workshop.

View/download the flyer
---
Festival of Mediums
Date
Saturday, October 27, 2018
12:30 pm to 5:00 pm
Description
This is a fundraiser for Church of Universal Love. I as well as others will be doing 15-minute readings on Oct. 27th from 12.30pm to 5 pm. The cost of these sessions are $30! You can book a single or double time slot. I will record all the sessions that I do. For more information please go to the website of Church of Universal Love.
Location
Church of Universal Love
951 Wilson Ave. Unit 16 Suite 1A (Keele and Wilson)
Toronto, Ontario M3K 2A7
Registration
You may book your reading now through their website. $30 per reading.
---
Mediumship Mechanics
SOLD OUT!  Names now being collected for 2019.
Date
October 28, 2018
1:00 pm to 5:00 pm
Description
This will be a full course in mediumship. This 5-week course will empower you with tools and confidence to connect with spirit. Each class we will be connecting with spirit in some way, and there will be homework. Participation is of the upmost importance. There are advantageous of being in a large group. There are experiences that cannot happen in a small group. Likewise, the small group gives a more one on one experience. This will be a small group of 10 people. It is important to be able to attend all the classes; so, if your schedules are in conflict, perhaps wait for a later opportunity and allow someone else to gain the full benefits of this course. Should you be interested in this course, yet the timing will not work for you, simply inform me that you are, and I will keep a list for the next session.
Location
At my home in Mississauga. Address will be given on registration
Registration
Cost: $260.
For more information about fees and registration, contact me through my website.

View/download the flyer
---
Mystic Night
Date
Friday, November 23, 2018
6:00 pm to 10:00 pm
Description
Back by popular demand! Join Marilyn for another two-hour mediumship presentation. What better way to spend Friday the 13th! This is a fun and magical evening of good food, a short personal reading, one drink, hors d'oeuvres, light dinner buffet and cash bar. More information coming October 18th.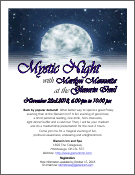 View/download the flyer
Location
Glenerin Inn and Spa
1695 The Collegeway
Mississauga, ON L5L 3S7
Registration
More information coming October 18th.
For event tickets, please call the Inn at 905-828-0814
Or email Lisa: ldemetrious@glenerininn.com