Events on this page:
Mediumship Mechanics
Date
Starts Sunday, March 31, 2019
12:00 pm to 5:00 pm
Description
This will be a full program in mediumship. This 4-week course will empower you with tools and confidence to connect with spirit. It is a spiritual journey. Each class, we will be connecting with spirit in some way, and there will be homework. Participation is of the upmost importance. This will be a small group of 10 people. It is important to be able to attend all the classes, and if your schedules are in conflict, perhaps wait for a later opportunity, and allow someone else to gain the full benefits of this course. Should you be interested in this course, yet the timing will not work for you, simply inform me that you are and I will keep a list for the next session.
Location
Mississauga, ON
(Address will be provided upon registration.)
Registration
Cost: $265
To enroll, contact me.

View/download the flyer (PDF)
Mystic Night
Date
Friday, April 12, 2019
6:00 pm to 10:00 pm
Description
Back by popular demand! What better way to spend a great Friday evening than at the Glenerin Inn? A fun evening of good food, a short personal reading, one drink, hors d'oeuvres, light dinner buffet and a cash bar. Then, I will be your medium and do a mediumship presentation for the next 2 hours. Come join me for a magical evening of fun, profound awareness, endearing and enlightenment.
Location
Glenerin Inn
1695 The Collegeway
Mississauga, ON L5L 3S7
Registration
For more information, check the Glenerin website,
or email Lisa: ldemetrious@glenerininn.com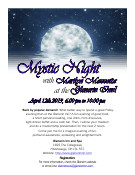 View/download the flyer (PDF)
Runecaster Workshop
Date
Sunday, May 5, 2019
1:30 to 5:30 pm
Description
An exciting workshop showing the novice the gift of this magical alphabet. We will be using the Futhark set, which is 25 staves (24 symbol staves and one blank stave). One of the most enchanting things about runes is how easily you can learn to read them for yourself as well as others.
This workshop is based on my book of runes written many years ago. Each participant will receive a copy of my book and some great insight.
You will need to invest in a set of Futhark Runes. The Futhark set will have 25 staves in total. You may find that wood, or stone works a bit easier. Clay runes do tend to chip. It is wise to also bring a cloth to read upon.
This workshop is intended for general interest purposes and does not necessarily represent the tenets of Spiritualism.
Location
First Spiritualist Church of Galt
2000 Speedsville Road
Cambridge, ON
Registration
Cost: $50.00
Register through the Church.

View/download the flyer (PDF)
Twilight Gala with a Sparkle of Mediumship
Date
Friday, May 31, 2019
5:30 to 10:30 pm
Description
The Twilight Gala will be a fun evening, with my friend Addariah Waugh, who is a great medium. The night starts with a delicious meal, then a private little psychic session. Then over 100 minutes of endearing messages. You do not need to be a member of the Spiritualist Church of Canada to join this enchanting evening. Mark on your calendar May 31st 2019, in Mississauga.
Location
Admiral Inn
2161 North Sheridan Way
Mississauga, ON
Registration
Cost: $70.00 (members) or $75.00 (non-members)
For more information and to register, go to the Spiritualist Church of Canada.

View/download the flyer (JPG)

View/download the flyer (PDF)
Dining With The Dead
Date
Monday, July 8, 2019
5:30 to 10:00 pm
Description
Good bye Mississauga, Hello WOODBRIDGE! What better way to get out on a summer eve? A great way to rid those Monday blues. A great eve to dine, yet we should be finish by 10 pm, so you won't be dead tired the next day! You will have a great meal, at La Veranda Restaurant, then a sweet table! Then a personal psychic mini-session. And to top it all off, I will be doing mediumship for 2 hours! What a line up for a great summer experience. Come join me July 8th 2019, at the La Veranda Restaurant.
Location
La Veranda Restaurant
140 Woodbridge Avenue
Marketlane Plaza
Vaughan, ON L4L 4K9
Registration
Cost: $75.00
Tickets available through Eventbrite.

View/download the flyer (PDF)