Events on this page:
Mediumship Mechanics
Date
Starts Sunday, March 31, 2019
12:00 pm to 5:00 pm
Description
This will be a full program in mediumship. This 4-week course will empower you with tools and confidence to connect with spirit. It is a spiritual journey. Each class, we will be connecting with spirit in some way, and there will be homework. Participation is of the upmost importance. This will be a small group of 10 people. It is important to be able to attend all the classes, and if your schedules are in conflict, perhaps wait for a later opportunity, and allow someone else to gain the full benefits of this course. Should you be interested in this course, yet the timing will not work for you, simply inform me that you are and I will keep a list for the next session.
Location
Mississauga, ON
(Address will be provided upon registration.)
Registration
Cost: $265
To enroll, contact me.

View/download the flyer (PDF)
Mystic Night
Date
Friday, April 12, 2019
6:00 pm to 10:00 pm
Description
Back by popular demand! What better way to spend a great Friday evening than at the Glenerin Inn? A fun evening of good food, a short personal reading, one drink, hors d'oeuvres, light dinner buffet and a cash bar. Then, I will be your medium and do a mediumship presentation for the next 2 hours. Come join me for a magical evening of fun, profound awareness, endearing and enlightenment.
Location
Glenerin Inn
1695 The Collegeway
Mississauga, ON L5L 3S7
Registration
For more information, check the Glenerin website,
or email Lisa: ldemetrious@glenerininn.com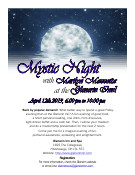 View/download the flyer (PDF)